Donate to help the Canonesses
"Monasteries of contemplative life offer themselves as "oases" in which human beings, pilgrims on earth, can draw more easily from the wellsprings of the Spirit and quench their thirst along the way…
May they have our spiritual and also our material support, so that they can carry out their mission to keep alive in the Church the ardent expectation of Christ's Second Coming" (Benedict XVI Angelus, November 19, 2006).
Our Future Chapel and Wing/Accessory Area (Phase II of Monastery Expansion Project)
If the Lord does not build the house, in vain do the builders labor. (Ps. 127:1)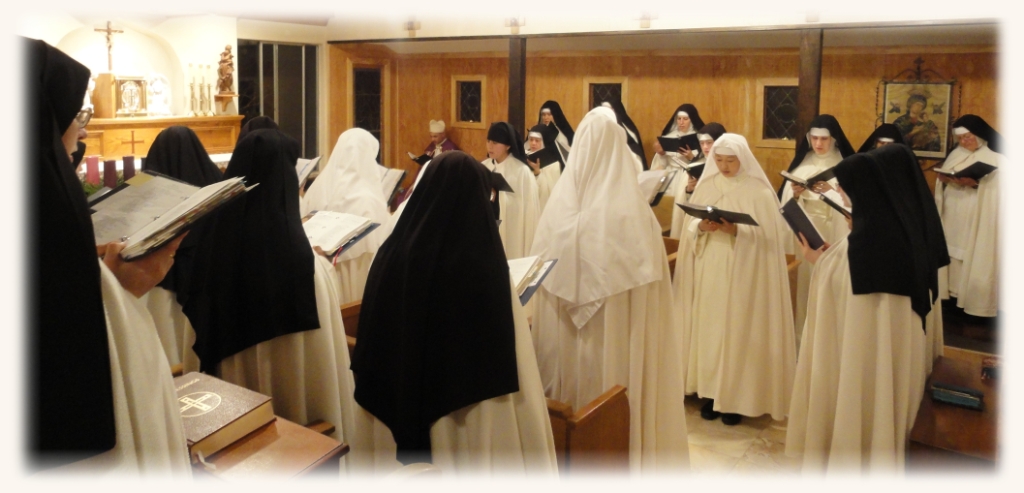 Given the growth of this first American foundation of Norbertine canonesses, we are running out of room in our twice-renovated chapel still located in the carved out area of the property's original ranch house. We will soon be at our limit, with no possibility of further extension.
Our future chapel (Phase ll) will serve to address our acute space needs, while providing the proper sacred ecclesial and monastic architecture for our worship and our celebration of the Sacred Liturgy, the heart and center of our life as Norbertine canonesses. The estimated cost of Phase II is $12 million, taking into account the 36 foot slope area on which the tri-level chapel will be built, as well as the tri-level wing/accessory areas. This tri-level wing will give passage to the chapel, contain additional rooms for our sisters, and will also connect with the future and final phase of our monastery expansion project.
General Needs of the Canonesses
Since our inception, we have continually striven to be self-sustaining and self-sufficient, a requirement of all Norber­tine communities. We gather eggs from our chickens and make fresh dairy products daily for the community from our cow and goat milk; and, we are current­ly in the final stages of the governmental process to obtain the necessary licenses to sell to the public our home-made artisanal cheeses. Along with our outdoor vegetable, berry and vine gardens, we have a large greenhouse that provides us year-round with some of our organic produce. While our self-support efforts as a
young and growing community continue, we know that for the foreseeable future we will also need to rely on the help of our many dear friends and benefactors, whose generosity is truly a blessing. We are very grateful for ongoing donations of almost every type of tangible good and professional service — from food to house­hold items, to maintenance and office supplies, to vehicles and health supplements, to medical, dental, optometry and other services, and more. If you have questions about our ongoing needs, please do not hesitate to write or email us.