AKC Labrador Retrievers

We have a small breeding program of English AKC Labradors in the three standard colors of black, yellow and chocolate (non-dilute) as future family companions, service, and therapy dogs. Our priority for all of our puppies, regardless of their future "mission," is excellence in temperament, intelligence, beauty, and health, and to this end we carefully selected our breeding dogs from kennels in Russia and Ukraine. All of our breeding Labradors have been health-tested, including certification of hips and elbows and extensive genetic/DNA testing (for over 150+ diseases). We provide a life-time health guarantee that none of our puppies will develop the common Labrador genetic diseases of PRA, CNM, or EIC, or any of the other genetic diseases for which both parents have been screened.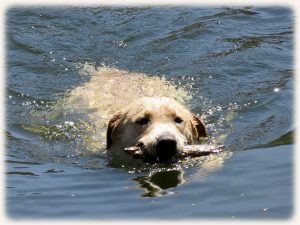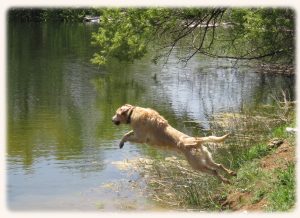 Our Labrador Retrievers enjoy daily walks with the nuns on our 450+ acres of forest, hilled pastureland, and orchards, and are always ready for a game of fetch. Well-suited for show, therapy, obedience, and service work, they would also be affectionate and devoted family companions for an active family or individual with a fenced-in yard.
Currently Available Puppies
As of August, we have available one black male and one black female from a litter that arrived on June 29th, the Solemnity of Ss. Peter and Paul. We also are expecting and taking deposits on litters in all three colors due in early and mid September. These litters are all out of multi-titled mothers, with many champions in the pedigrees on both sides of the family. The puppies promise to have proper English conformation–with blocky heads, a more stocky build, and otter tails–and laid-back, affectionate temperaments. Please contact us for more information and photos of the parent dogs. These puppies will be available to go home on limited AKC (non-breeding) registration for $3000 + CA sales tax. We welcome inquiries about our breeding program and puppies, either by email or phone, and would be glad to arrange a visit. Thank you and God bless you!
Please contact us for more information or to reserve a puppy.
Email: norbertinecanonesses1@gmail.com
Phone: 661-221-2013

"Each of the various creatures, willed in its own being, reflects in its own way
a ray of God's infinite wisdom and goodness" (Catechism of the Catholic Church n. 339).